15.12.2017 - CERAD contractor has been selected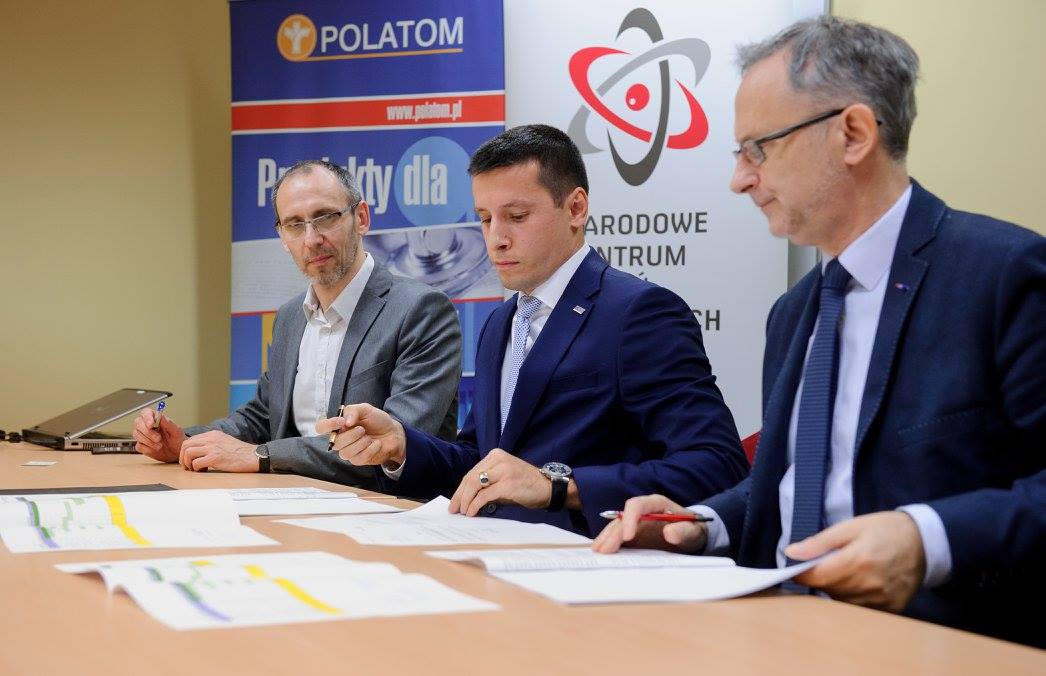 On December 12, 2017 the contract to build the facility of Centre for Design and Synthesis of Molecularly Targeted Radiopharmaceuticals (CERAD) has been signed.
Novel radiopharmaceutical materials for medical applications belong to one of the strategic research and innovation topics of a long-term science and innovation strategy of NOMATEN Centre of Excellence. In the future, the NOMATEN CoE will benefit from collaboration with the CERAD project, the objective of which is to develop a modern infrastructure dedicated to research on new diagnostic/therapy radiopharmaceuticals based on ligands biologically active on the cell/molecular level.
Radioactive isotopes combined with disease molecular markers may help to diagnose some serious diseases and to apply suitable treatment sooner than before. The project meets the challenges of development of effective methods of cancer diagnostics/therapy in line with worldwide socio-demographic trends. The project will be accomplished by a consortium established by NCBJ, Warsaw University, Institute of Nuclear Chemistry and Technology in Warsaw, Warsaw Medical University, Collegium Medicum of the Jagiellonian University in Cracow, and Medical University in Białystok. Works of the consortium are coordinated by NCBJ.
The contract to design, construct, and equip the CERAD centre was signed in Świerk by DSc. Krzysztof Kurek, NCBJ Director General, Dr. Dariusz Socha, NCBJ POLATOM Director, and Mr Tomasz Wiatr, CP OK2 sp. z o.o. Vice-president on December 12, 2017. The ceremony was attended by Prof. Renata Mikołajczak, leader of the CERAD project.