Professor Mikko Alava was appointed director of the NOMATEN CoE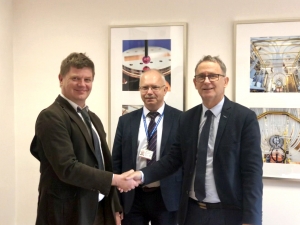 The process of creating the NOMATEN Center of Excellence is entering a decisive phase: Professor Mikko Alava has assumed the position of director and will soon start completing research teams. CoE NOMATEN is to explore new functional materials. It was created thanks to a grant in the Teaming for excellence competition and thanks to the support of the Foundation for Polish Science. 
On Monday, October 7, Professor Mikko Alava assumed the position of Director of the NOMATEN Center of Excellence. This new scientific institution was created at the National Center for Nuclear Research in Świerk as a result of the European Union granting funds in the prestigious Teaming for excellence competition and as a result of national support from the Foundation of Polish Science (FNP). Professor Alava was recommended as the director of the NOMATEN Center by the International Scientific Committee of the project. His candidacy was selected from among many proposed by renowned scientists from around the world and gained recognition of the FNP.
Read the full text article here.